Across the Bight Rail & Sail
Ready to go? Book now via...
Indian Pacific
This three-day two-night all-inclusive journey begins as the train heads north-west and you make your way to the vast expanse and beauty of the Nullarbor Plain. On your second night dine under the stars at Rawlinna; the remote and beautiful outpost that borders a sheep station of a mere 2.5 million acres. After a restful sleep, you are greeted by daybreak and breakfast in the picturesque rolling hills of the Avon Valley as we head to our final destination of Perth in the mid-afternoon after enjoying a delightful lunch.
Explore Remote Islands & Iconic National Parks
13 Nights | Departing Fremantle | Arriving Adelaide
Set sail on an all-new 13-night expedition immersion into the wild nature, rich history, and unique coastline of Australia's southwest. A once-in-a-lifetime opportunity to cross the Great Australian Bight, this voyage will visit hard-to-reach islands and iconic National Parks along the south coast. Enjoy guided walks along the vast and secluded beaches at locations such as Cape Arid National Park, Cape Le Grand, and Bremer Bay. Among the scattered islands and outcrops of the Archipelago of the Recherche, discover remote breeding grounds of sea lions and follow the snorkel trail at Shearwater Bay to spot the elusive Leafy Sea Dragon. As we round the southwest edge of Australia discover enjoy time ashore with sunset drinks at Woody Island, a visit to extraordinary Jewel Cave, swimming with stingrays at Hamelin Bay, and walk amongst the vines and sample wines through the Margaret River region. Guest Lecturer Ian Herford joins us onboard for this voyage in 2021.
Coral Geographer
Just Launched – A new ship for new destinations.
We are proud to introduce our newest ship – Coral Geographer. As a sister ship to Coral Adventurer (launched April 2021), Coral Geographer is designed for tropical expedition cruising. She will access remote wilderness shores around the globe that are inaccessible to large cruise vessels. Coral Geographer is Australian flagged and crewed to deliver Coral Expeditions high standards of quality, capability, safety, and environmental responsibility. When designing our next generation of ships, we wanted to remain small enough to go to untouched places, focusing on bringing small numbers of like-minded guests closer to nature and cultures. Coral Geographer's shallow draught and manoeuvrability allow her to go where larger vessels cannot. With a maximum capacity of 120 guests, she will carry fewer than 100 guests under the company's SailSAFE plan, delivering Coral Expeditions' renowned warm Australian hospitality, intimate onboard atmosphere, and world-class expedition experience.
Rail Inclusions:
3 days/2 nights aboard the Indian Pacific
All-inclusive meals, fine wines, and beverages
A regionally-inspired menu paired with a selection of local wines
Off train experiences in Rawlinna and Cook
Dinner under a million outback stars at Rawlinna (seasonal)
An exclusive pre-boarding event in Adelaide, including a gourmet dinner and world-class wine
Cruise Inclusions:
13 night Expedition Cruise Fremantle to Adelaide aboard Coral Geographer
Expert Expedition Team and Guest Lecturers
An authentic, flexible expedition itinerary
Comprehensive and fully guided sightseeing in each destination
Lectures, workshops and demonstrations onboard
All meals, chef-prepared on board
Showcase wines, selected beers and soft drinks with lunch and dinner service
Captain's Welcome and Farewell Events, and Open Bridge Access
24-hour coffee and teas
Use of all onboard facilities, including a reference library
1 nights accommodation in Perth

Cruise Highlights:

Get close to the large stingrays and eagle rays that swim in the shallows of Hamelin Bay
Hike the spectacular coast of Cape Naturaliste & Point Ann
Indulge in a tour and cellar door experiences in the award-winning Margaret River wine country
Climb Cape Leeuwin lighthouse, the tallest on mainland Australia, to take in the view over the Southern Ocean
Stroll through breath-taking Jewel Cave at Augusta and learn about its formation over thousands of years
Visit the friendly kangaroos at Lucky Bay
Discover the wild islands of the Archipelago of the Recherche and follow the snorkel trail at Shearwater Bay
Learn to shuck your own delicious oysters fresh from the waters of Coffin Bay
DAY 1
ADELAIDE
Indian Pacific guests heading west from Adelaide to Perth will celebrate the start of their journey with the 'Flavours of South Australia Welcome Dinner', held at the Adelaide Parklands Terminal. A showcase of fabulous food and world-class wine, this complimentary pre-boarding event delivers the best bottles from around SA and sublime regional offerings from both land and sea.
DAY 2
NULLARBOR PLAIN
Enjoy a leisurely breakfast with expansive desert views, followed by a stop at the outback ghost town of Cook. A spectacular dinner under the stars awaits at Rawlinna (seasonal), the Nullarbor outpost that borders a 'little' sheep station of a mere 8,000 square kilometres.
DAY 3
PERTH - Disembark Indian Pacific & Stay 1 night in Perth
After a restful sleep, sit down for breakfast as the picturesque rolling hills of the Avon Valley pass you by. Perth is your final destination, arriving mid-afternoon.
DAY 4
FREMANTLE - Board Cruise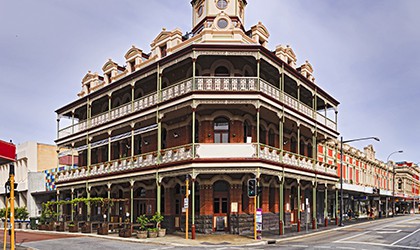 Board Coral Geographer at 4.00pm, where there is time to settle into your stateroom before our 5:00pm departure. As dusk falls meet your fellow travellers, the Captain and crew for the Captain's Welcome Drinks.
DAY 5
EAGLE BAY & CAPE NATURALISTE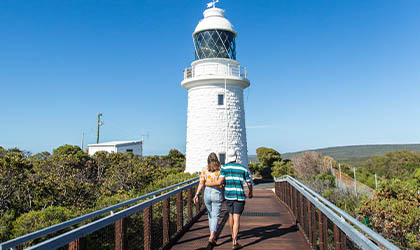 Cape Naturaliste is the northernmost point of the Leeuwin-Naturaliste Ridge, located on the western edge of Geographe Bay. As part of the Leeuwin-Naturaliste National Park, the Cape is known for its spectacular coastal scenery and some of the best walking tracks in the Margaret River Region.
Today we will spend the day exploring these walking trails, with options to suit all levels. Visit the Cape Naturaliste Lighthouse before spending some free time in the charming town of Dunsborough.
In the afternoon we visit the stunning Meelup Beach for some sunbathing and swimming, followed by sunset drinks on the beach. This beach is one of the few places in Western Australia where you can watch the moon rise over the ocean and is most attractive on a full moon!
In 1801, French navigator Nicolas Baudin stopped here during his explorations of Australia and left his mark on the region at Geographe Bay, named after his flagship Geographe and Cape Naturaliste, after the ship Naturaliste.
DAY 6
HAMELIN BAY & MARGARET RIVER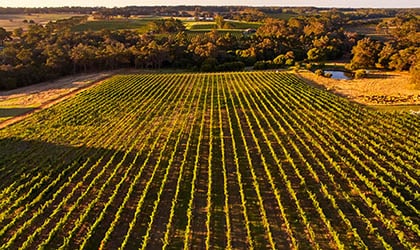 Hamelin Bay is located on the southwest coast on a serene open sandy bay, famous for the abundance of stingrays which frequent the bay. Snorkel with these friendly giant rays, which can measure up to 2 meters wide, and love to swim up close to snorkellers. With clear and calm water, this is a great snorkel spot for all levels to enjoy interesting fish and plant life in the bay, and some great rocks and shipwrecks further out for those more confident in the water.
After a morning in the water there will also be time for the bird enthusiasts on a walk to the nearby freshwater lake to look for water birds including the Grey Teal, Purple Swamphen and Grebes. We will also visit the beach for possible sightings of the Hooded Plover.
A quintessential Western Australian destination, Margaret River is flanked with national parks including towering forests, pristine coastlines, and rugged granite outcrops. Spend the afternoon enjoying this beautiful countryside of the Margaret River region as we relax on a luxury coach tour of the wineries in this area. Enjoy tastings and cellar-door visits to some of the leading Margaret River wineries.
DAY 7
AUGUSTA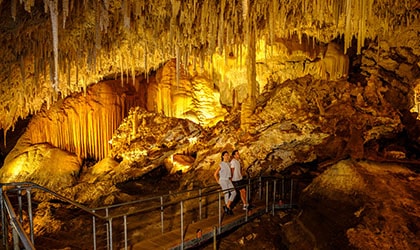 Augusta is the most south-western town in Australia and is nearby to the towering karri timber of Boranup Forest and spectacular Jewel Cave. The south west coast was first seen by explorers in 1622 from the Dutch ship Leeuwin. Then expeditions by French explorers De Freycinet, D'Entrecasteaux, Baudin and Hamelin sighted the coast in the late 18th to early 19th century.
Captain Matthew Flinders charted the south west coast from 1801 to 1803 and proved that Cape Leeuwin was part of the mainland. With the arrival of settlers, Augusta was founded in 1830. The subsequent increase in ship traffic over the next few decades led to the construction of the impressive Cape Leeuwin Lighthouse 1896.
Here, we will climb Cape Leeuwin Lighthouse, the tallest lighthouse on mainland Australia overlooking the point where the mighty Southern and Indian Oceans collide. We will also visit Jewel Cave, an awe-inspiring and extremely well decorated cave, containing many beautiful examples of delicate helictites, cave coral, pendulites, a very large stalagmite called 'The Karri Forest', and beautiful examples of flowstone such as 'The Frozen Waterfall' and 'the Organ-pipes'. Remarkably, fossilised remains of several Tasmanian Tigers have been discovered within Jewel Cave, more than 3000 years after the thylacine became extinct on mainland Australia.
In the afternoon, enjoy free time to explore the town before re-joining Coral Geographer.
DAY 8
BREAKSEA ISLAND & ARPENTEUR NATURE RESERVES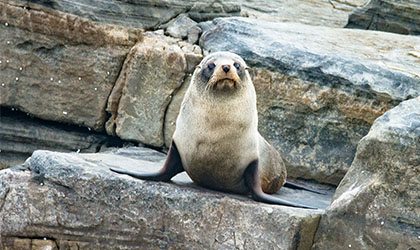 This morning we arrive at Breaksea Island, named by George Vancouver during his expedition in 1791. While in the area he also took possession of the lands for England. He named the islands after its beaten appearance and the protection it offered to the landward side from the south-westerly winds.
In the morning we will spend time observing seals in their natural habitats at Seal Cove. The playful and curious fur seals and Australian seal lions have made their home on the north side of Breaksea Island. Watch as they laze on nearby rocks or glide gracefully through the water.
In the afternoon we will spend time exploring Arpenteur Nature Reserves, with the chance to see rare birds including Noisy Scrubbird, Red-Winged Fairywren, Southern Emu-Wren or New Holland Honeyeater. Following your walk enjoy a swim to freshen up!
DAY 9
BREMER BAY & POINT ANN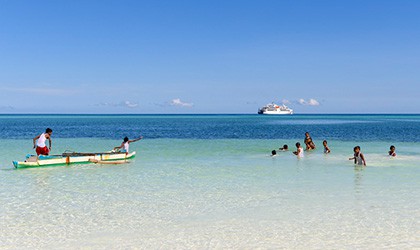 The peaceful coastal town of Bremer Bay, population 230, is renowned for having some of the most beautiful beaches in the world. Located on the edge of the Southern Ocean, these vast stretches of pristine white sand offer a peaceful spot to stroll or swim, especially in summer. Explore the variety of small and large beaches around the area, and spend your afternoon relaxing, swimming, or snorkelling in the clear blue waters.
The genuine pristine surroundings and deep peacefulness, along with the opportunity to observe the unique flora of the area and possibly witness some the abundant marine life in the bay, makes Bremer Bay a true highlight on our voyage.
In the afternoon we visit Point Ann, located in the Fitzgerald National Park. The Point Ann platform is known to be a good vista for lookouts, while the 1.5km easy bush walk follows the site of the original rabbit proof fence, with superb views over Point Charles Bay.
DAY 10
WOODY ISLAND - RECHERCHE ARCHIPELAGO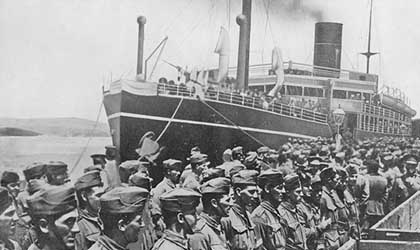 This morning, we enter the Recherche Archipelago, a group of 105 islands and many more rocky outcrops. Here, many species of birds as well as sea lions and fur seals, come to breed. The islands are scattered across the blue water – a beautiful seascape when viewed from shore with turquoise waters washing against grey and tan-coloured granite.
Here, we will land at Woody Island to explore. Located just 15km off the coast of Esperance, Woody Island's stands of tall trees have given it its name. Surrounded by pristine, clear waters, you will have the opportunity to experience the snorkel trail in Shearwater Bay. The cool southern waters provide excellent visibility for your journey of discovery.
There are several beautiful walks on the island, from easy to moderate, and you will appreciate the spectacular views across the archipelago along the way. For the bird lovers, a wide variety of bird life is sighted on the island, from land dwellers to those dependent on the sea. Spot Singing & New Holland Honeyeaters, Silvereyes, Red-eared Firetails, Rock Parrots and Sacred Kingfisher. While along the walk trails catch a glimpse of the Golden Whistlers, Brown Quails, Spotted Pardolalotes, Brush Bronzewings, Raptors and Fan Tailed Cuckoo.
DAY 11
CAPE LE GRAND NATIONAL PARK – LUCKY BAY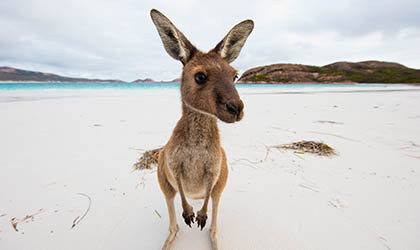 Cape Le Grand National Park's massive granite peaks, rolling heathlands and curving white beaches are some of the most spectacular landscapes along the southern coast. Along quiet Lucky Bay, kangaroos are known to laze on the whitest sand in Australia. The turquoise water is wonderful for a quick swim, and if time permits, we will enjoy a moderate hike on part of the Le Grand Coastal trail. The Cape Le Grande coastal trail passes through beautiful coastal scenery, and the national park is home to pygmy possums, western grey kangaroos and many colourful native wildflowers.
DAY 12
YOKINUP BAY, CAPE ARID NATIONAL PARK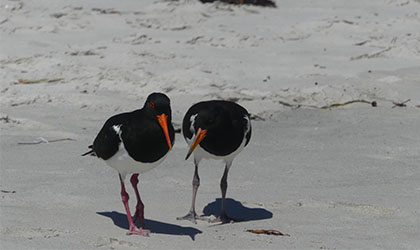 The wilderness of Cape Arid, nearly pristine due to its remoteness, is an important conservation area for 1100 species of plants and more than 160 bird species, many of which are threatened or endangered.
Broad white beaches washed by blue seas create a beautiful vista at Yokinup Bay, an absolutely unmissable view. Here we will discover the Thomas River estuary for birdwatching – you might spot honeyeaters, pied oystercatchers and hooded plovers, among many others.
In the heart of the Cape Arid wilderness is the Thomas Fishery, an 1870s whaling station where the whalers processed their catch. The station was set up here due to the abundance of southern right whales, which still gather close to shore to give birth and nurse their young. We may have the opportunity to visit the location, although little remains of the original station.
DAY 13
CROSSING THE BIGHT
Our crossing of the Great Australian Bight is an exciting moment for those who love the sea. This iconic marine area includes the Great Australian Bight Marine Park, which protects an area of global importance for endangered southern right whales. These waters also support important populations of the endangered Australian sea lion, with up to 80% of the population found here. The seals haul out at the base of the 100-metre-high cliffs.
DAY 14
STREAKY BAY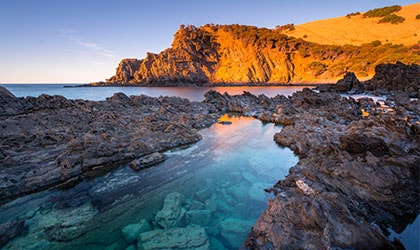 Streaky Bay and the surrounding district are renown for the great variety of landscapes, from largely untouched native scrubland and farming country to cliffs and extensive surf beaches.
In the morning, enjoy a walking tour of the town, ending at the museum.
DAY 15
COFFIN BAY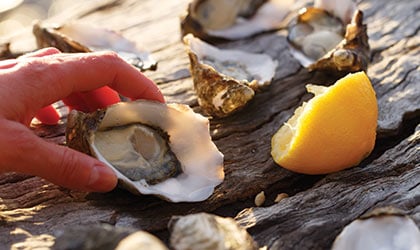 Surrounded by sea and National Parks, today we discover the tranquil bays by taking a swim, snorkel, or kayak and enjoy the local marine life and water ways before finishing our day enjoying a once-in-a-lifetime culinary experience. Wade out into the water and taste fresh Pacific and the native Angasi oysters straight out of the sea and learn firsthand how to shuck an oyster. Throughout the day, learn about the history of Coffin Bay and the Oyster farming practices of the famous Coffin Bay Oyster. Prepare for a seafood tasting sensation!
DAY 16
ARRIVE ADELAIDE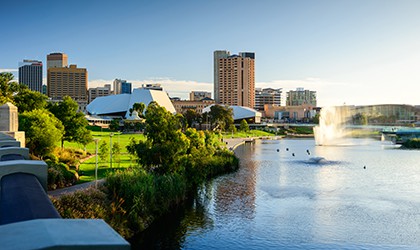 Arrive in Adelaide at 2:00pm for an 2:30pm disembarkation. A complimentary post-cruise transfers to the airport or CBD will be available.
| Depart Adelaide | Return Adelaide | Coral Deck | Explorer Deck Balcony |
| --- | --- | --- | --- |
| 20 October 2022 | 5 November 2022 | $11,099pp | $14,995pp |
*Pricing is per person twin share correct as at 24 May 2021
Destinations featured in this deal...
Booking terms and conditions apply
* Term and conditions apply – please speak to your Phil Hoffmann Travel Consultant for more information.
Prices subject to change with availability and prevailing exchange rates.
Advertised prices based on per person twin share unless stated otherwise.
Offers may be withdrawn at any time.
If travelling on a PHT Escorted Journey or Hosted Cruise, included home to airport transfer is for the Adelaide metropolitan area to the value of $50 per person only.
Surcharges may apply if outside this radius.
Interstate travellers are welcome to participate in PHT Escorted Journeys or Hosted Cruises, however any noted pre-departure function is held in Adelaide only.