Cherry Blossoms of Japan
Ready to go? Book now via...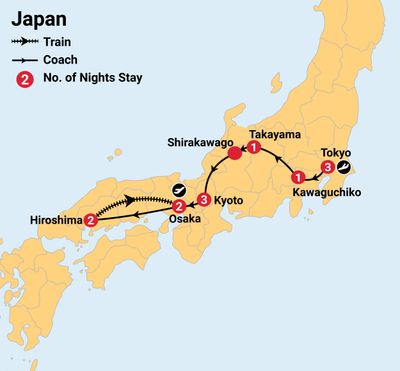 All coach, rail and ferry transportation, including the iconic Japanese bullet train
12 nights in comfortable 3-4-star accommodation
Daily breakfast, 1 dinner
Ride the iconic Japanese bullet train
Comfortable, dedicated private transportation throughout
Fully escorted by professional, English-speaking guide
Incredible sightseeing as per the itinerary, including the beauty of sakura (cherry blossoms) in beautiful destinations like Tokyo's Ueno Park, Kyoto's Heian Jingu Shrine and Lake Kawaguchiko with the backdrop of iconic Mount Fuji
Only $99 deposit per person
Day 1 Tokyo
Welcome to Japan!
Upon arrival to Tokyo, please make your own way to the starting point hotel.
This evening there will be a welcome meeting at the hotel to discuss some tour logistics and to give you a chance to meet your fellow travellers.
Hotel 3 Kichijoji Tokyo Rei Hotel or Similar
Day 2 Tokyo
This is arguably one of the most extraordinary capital cities on the planet. The Tokyo metropolitan area spreads over three prefectures with 38 million residents.
In spring, local and international tourists alike flock to Japan to see the renowned cherry trees bloom and join in the sakura (cherry blossom) festivities. Even for a city so densely populated, Tokyo has a lot of parks and green spaces, making it perfect for sakura viewing.
Enjoy a full day tour of the city's highlights. We'll start with a visit to the Tsukiji Outer Market, a shopping district adjacent to the enormous former wholesale fish market. It's a dream for foodies. This lively area is home to everything food-related – fresh ingredients, street food vendors, kitchen utensils. You'll find great sushi and other restaurants around here, too.
We'll see a beautiful public park that has served many purposes over the centuries. It was originally built as a feudal lord's Tokyo residence and duck hunting grounds during the Edo period, but later served as a strolling garden and an imperial detached palace, before eventually being opened to the public in its current form.
Depending on the season's timing, your guide will carefully choose another viewing spot around Tokyo for you to enjoy these lush pink blooms and the joy of sakura.
Hotel 3 Kichijoji Tokyo Rei Hotel or Similar
Meals Breakfast
Day 3 Tokyo
Enjoy the serenity of Ueno Park, the city's largest green space and home to numerous temples and museums. There's even a zoo here. More than 800 cherry blossom trees line the wide central path. The first cherry trees were planted here by legendary shogun Tokugawa Ieyasu, whose reign began the Edo Period (1603-1868). It's said to be one of the oldest hanami (a cherry blossom viewing party) places in the city and it's certainly a popular spot, so be prepared for crowds. The trees here typically bloom a little bit earlier. At night it's especially magical when this space is lit up.
The annual blooming of sakura is a sacred occurrence that has been celebrated for over 1,000 years. Cherry blossom season is widely fêted all over the country. Hanami, usually with a picnic, is a chance to celebrate the arrival of spring and the transient, fleeting beauty of sakura.
You'll have some free time for lunch and a wander among the blossoms.
In the heart of the quirky Harajuku district, we'll stop at Yoyogi Park. It's a popular gathering place year-round and in spring, with around 600 cherry trees, it's another lively spot for hanami parties. We'll then visit nearby Meiji Shrine (Meiji Jingu), located within a 170-acre forest in the centre of Tokyo. Constructed of cypress wood and copper, the shrine commemorates Emperor Meiji, who presided over Japan's industrial revolution in the second half of the 19th century. This calm, peaceful escape is beautiful in cherry blossom season.
Hotel 3 Kichijoji Tokyo Rei Hotel or Similar
Meals Breakfast
Day 4 Tokyo Kawaguchiko
We'll head to Kawaguchiko today, about a two hour drive. Lake Kawaguchiko is the most accessible of the Fuji Five lakes; popular sightseeing spots each offering an astonishing view of dramatic, iconic Mount Fuji. Sakura season aside, this is a great place to get back to nature.
Here we'll visit Mt Fuji 5th station to hopefully view the divine mountain before visiting, Oishi Park on the north side of the lake. Seeing the cherry blossoms with Japan's most famous mountain in the background really is an experience. There are about 300 cherry trees on the northern shore, stretching for about a kilometre.
You'll see the lakeside trail along the eastern shore of the lake that boasts many weeping cherry trees. There will be time for lunch.
This lake is also home to a cherry blossom festival held during the season, one of the most popular in the country.
Hotel 4 Oiso Prince Hotel or Similar
Meals Breakfast
Day 5 Kawaguchiko Takayama
We'll drive to the traditional city of Takayama today, still home to many Edo-period buildings.
We'll visit Matsumoto Castle, also known as 'Crow Castle' due to its dramatic black exterior. The donjon (keep) – Japan's oldest remaining wooden keep, completed around 1593 – is listed as a National Treasure of Japan. This historic site is particularly lovely when hundreds of cherry blossom trees surrounding the castle are in bloom.
For a taste of authentic, old Japan, we'll enjoy a tour of Takayama old town, nestled in the Hida mountains. This city still retains a traditional feel, especially in its beautifully preserved old town (Sanmachi Suji). Here you'll find quaint, old latticed wooden buildings and Sannomachi Street, with pretty homes, restaurants and sake breweries. We'll see the Takayama Jin'ya, the former government headquarters under the Tokugawa Shogunate from 1692-1871.
Hotel 4 Okada Ryokan or Similar
Meals Breakfast
Day 6 Takayama Shirakawago Kyoto
Today travel to Shirakawa-gō Village, a UNESCO World Heritage Site that has more than 100 'Gassho-style' houses, which feature steeply-pitched roofs. Built many hundreds of years ago, these historic houses stand together in a beautiful natural setting. From the site's observation deck you can enjoy a panoramic view of this unique village, its thatched-roof houses sitting among gorgeous mountain scenery. Following this we will transfer to Kyoto where the afternoon is at leisure to ensure this UNESCO delight.
Hotel 3 Hotel Elcient Kyoto or Similar
Meals Breakfast
Day 7 Kyoto
In north-eastern Kyoto, we'll walk along the Philosopher's Path, running alongside the Lake Biwa Canal. It's perfect for a slow stroll under the fragrant blossoms.
Heian Jingu Shrine is a relatively young sacred location – built in 1895 – but this Shinto shrine is very impressive, with its enormous torii (sacred gate) standing almost 25 metres high. The garden behind the main hall – a shining example of Meiji-era garden design – is home to several weeping cherry trees.
Visit Kinkaku-ji Temple, otherwise known as the Golden Pavilion. This is a Zen temple and a UNESCO World Heritage Site with two floors covered entirely in thin layers of pure gold. The site is set within a beautiful classical Zen garden. The detailed architecture of Kinkaku-ji incorporates three distinct architectural styles – Shinden, Samurai, and Zen.
Hotel 3 Hotel Elcient Kyoto or Similar
Meals Breakfast
Day 8 Kyoto
Today is a full free day to spend in Kyoto. This golden city was once the capital of Japan and sits on the island of Honshū. It's famous for its numerous classical Buddhist temples, as well as gardens, imperial palaces, Shinto shrines and traditional wooden houses. In the city's famous Gion district, Geisha can often be seen strolling through the streets.
Hotel 3 Hotel Elcient Kyoto or Similar
Meals Breakfast
Day 9 Kyoto Nara Osaka
This morning, we travel the short distance to Nara. Visit Tōdai-ji (Great Eastern Temple), famed for its Great Buddha Hall, which remains one of the largest wooden buildings in the world. This impressive building houses a 15m-tall bronze statue of the Buddha Vairocana. Following this we'll wander through gorgeous Nara Park, where more than 1200 tame sika deer roam freely.
Following our tour we'll depart Nara and head to Osaka, a vibrant tourist destination renowned for its food culture.
Hotel 4 FP Hotel South-Namba or Similar
Meals Breakfast
Day 10 Osaka Himeji Hiroshima
Today your main luggage will remain at the hotel in Osaka to meet you upon your return in two days time. Please ensure you have an overnight bag packed for your two evenings in Hiroshima.
After breakfast we'll depart Osaka to visit the so-called 'White Heron Castle', Himeji – it's the largest surviving example of a traditional Japanese castle. Comprising 83 buildings, the white roof of this UNESCO World Heritage-listed complex is said to evoke the wings of a heron taking flight, hence the popular name Shirasagi-jō (White Heron Castle). This is the most visited castle in Japan and the site offers some wonderful views of surrounding Himeji city.
From here we'll continue on to Kurashiki, a city on Japan's Seto Inland Sea, where we'll tour the Bikan Historical Quarter, known for its centuries-old buildings and lovely local shops. After our visit here we'll transfer to our hotel in Hiroshima.
Hotel 3 Hiroshima Tokyu Rei Hotel or Similar
Meals Breakfast
Day 11 Hiroshima
After breakfast this morning our guide will meet us in the hotel lobby. Together we'll board a ferry for the short trip to Miyajima, an island known for its forests and ancient temples. Just offshore, there's a 'floating' torii, which becomes partially submerged at high tide. It marks the entrance to the Itsukushima Shrine, which was first built in the 12th century. Nearby, the Museum of History and Folklore has cultural artifacts in a 19th-century merchant's home. We'll take a walk along Omotesando Shopping Street where you can grab some lunch before returning to Hiroshima by ferry.
Once we're back in Hiroshima we'll visit the Atomic Bomb Dome, otherwise known as the Genbaku Dome, or the Hiroshima Peace Memorial. A shell of a building that was one of very few left standing after the United States bombed Hiroshima in 1945. In Hiroshima today, locals have mixed feelings about the UNESCO World Heritage-listed structure: some see it as a reminder of war, while others consider it a tribute to the lost that ensures we'll never forget the tragic events that took place here.
Later, we'll visit the Hiroshima Peace Memorial Museum, which contains many poignant, yet important, exhibits. The flame in the cenotaph is intended to burn until the last nuclear weapon has been destroyed.
Hotel 3 Hiroshima Tokyu Rei Hotel or Similar
Meals Breakfast
Day 12 Hiroshima Osaka
This morning we'll depart Hiroshima via the bullet train to Shin-Osaka Station. Upon arrival in Osaka we'll begin a full-day coach tour with our guide, beginning at Osaka Castle, which played a major role in the unification of Japan during the Azuchi-Momoyama period in the 16th century.
Later, we'll tour Kuromon Ichiba, one of the city's main food markets. This spacious covered market features vendors peddling street food, fresh produce, shellfish and trinkets and souvenirs.
After a short break for lunch our tour continues to the Minami area in the city's south – a district that's bursting with boutiques, designers outlets, restaurants and bars.
We'll also enjoy a walking tour of the Dōtonbori area. One of Osaka's most popular tourist destinations, this street runs parallel to the Dōtonbori canal and is a hugely popular destination for shopping, street food, bars and entertainment. At night the streets here are illuminated by hundreds of colourful neon lights and mechanised signs, including the famous running Glico Man sign and the Kani Doraku crab sign.
This evening we'll enjoy dinner as a group at a local restaurant.
Hotel 4 FP HOTELS South-Namba or Similar
Meals Breakfast, Dinner
Day 13 Osaka
Enjoy one last delicious breakfast this morning, before your Japanese adventure comes to an end.
Meals Breakfast
Destinations featured in this deal...
Booking terms and conditions apply
* Term and conditions apply – please speak to your Phil Hoffmann Travel Consultant for more information.
Prices subject to change with availability and prevailing exchange rates.
Advertised prices based on per person twin share unless stated otherwise.
Offers may be withdrawn at any time.
If travelling on a PHT Escorted Journey or Hosted Cruise, included home to airport transfer is for the Adelaide metropolitan area to the value of $50 per person only.
Surcharges may apply if outside this radius.
Interstate travellers are welcome to participate in PHT Escorted Journeys or Hosted Cruises, however any noted pre-departure function is held in Adelaide only.