Desert to Coast
Ready to go? Book now via...
The Ghan
From Adelaide to Darwin or vice versa, The Ghan journey showcases the diversity of this island continent, with inclusive Off Train Experiences in Marla (northbound) to witness an outback sunrise, in Manguri (southbound) to gaze at the outback stars, Alice Springs in the Red Centre and Katherine for its spectacular ancient gorge system and outback lifestyle.
Off Train Experiences
Alice Springs: A morning or afternoon in The Alice gives guests a glimpse into the history of yesterday. Visit the local landmarks, take a front row seat to a spectacular bird show at the Desert Park or view the permanent waterhole at Simpsons Gap. Upgrade options in Alice Springs include Pyndan Camel Tracks or the Spirit of Mount Gillen Helicopter Flight (additional fee applies).
Katherine: Choose from either the Nitmiluk Gorge Cruise, viewing both gorges or the Nitmiluk First Gorge Rock Art Cruise, gaining an insight into the culture of the Jawoyn people. From May through October an alternative experience is offered, the Katherine Outback Experience, showcasing the inner workings of life on an Australian cattle station. The Nitmiluk Gorge experience can be upgraded with a helicopter flight or a scenic flight over Kakadu and Nitmiluk National Parks (additional fee applies).
Marla (northbound): Set foot in the remote reaches of South Australia to witness an unforgettable outback sunrise for this early morning stop.
Exploring the Kimberley & Beyond
12 Nights | Departing Darwin | Arriving Broome | 28 September 2022
New Release: This new itinerary combines our classic 10-day Kimberley itinerary with a visit to the spectacular Rowley Shoals Marine Park and Ashmore Reef. Witness magnificent coastal vistas created by towering rock ridges, silent secluded gorges, abundant wildlife, and massive tidal movements. Expert guides interpret 40,000-year-old rock art, and retrace the history of Phillip Parker King who first charted this spectacular coastline 200 years ago. Board a Zodiac and touch the spray from the magnificent King George River and its towering 80-metre sandstone escarpments. Join an expert guide to learn about the history of the ancient Wandjina and Gwion Gwion rock paintings. Witness waterfalls cascading off Montgomery Reef as it rises out of the ocean on the ebbing tide, whilst discovering the reef's diverse marine life. Finish off the voyage at a chain of coral atolls offering some of the best snorkelling and diving opportunities in the world. Their shallow lagoons are inhabited by myriad coral species and marine life, including giant potato cod, Maori wrasse, at least 233 species of coral and 688 species of fish – many of which are not found on other coral reefs.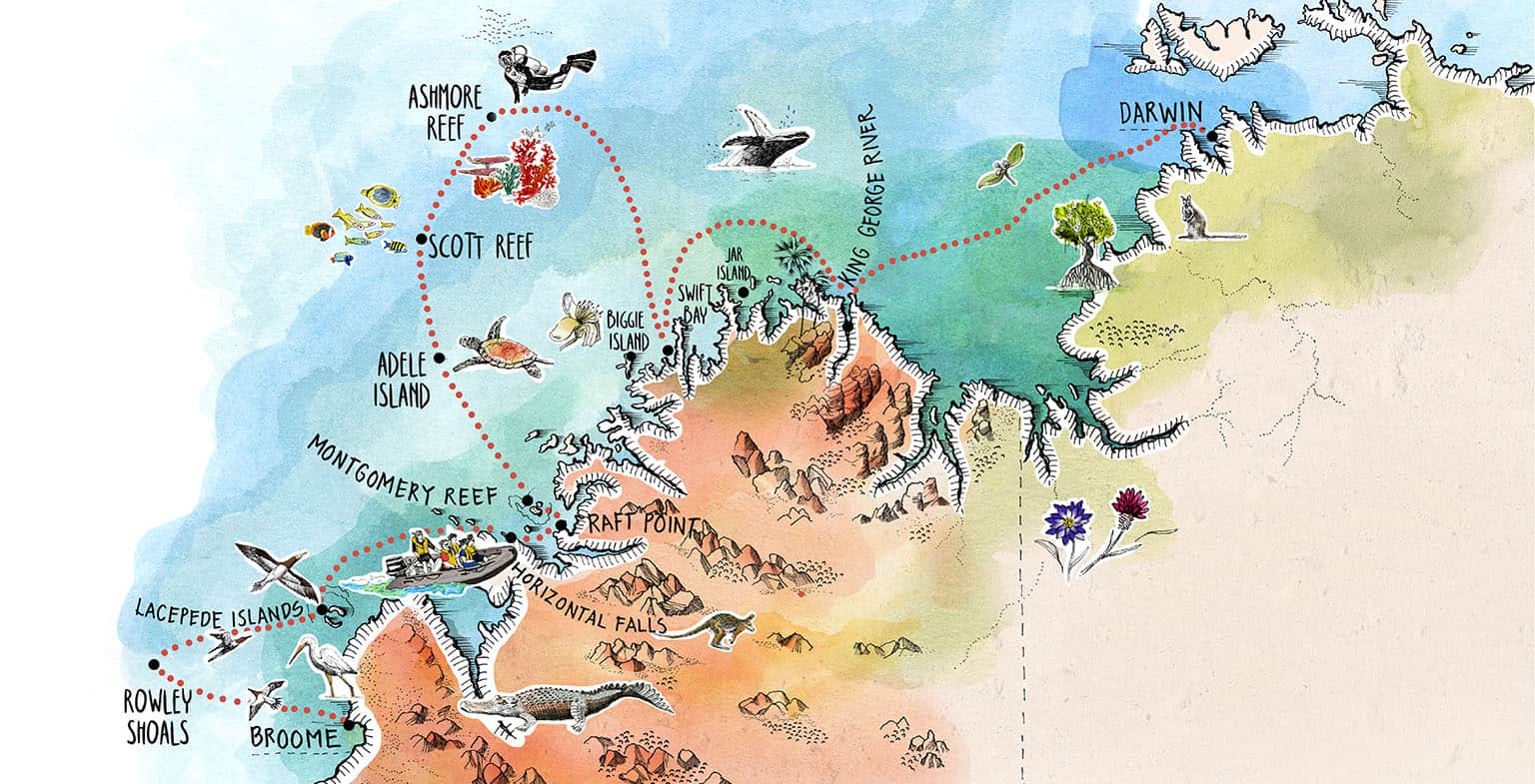 The Ghan
3 days/ 2 nights aboard The Ghan
All-inclusive meals, fine wines, and beverages
A regionally-inspired menu paired with a selection of local wines
Immersive off train experiences in Marla, Alice Springs, and Katherine
Cruise the Nitmiluk Gorge, learn more about Katherine's ancient Indigenous rock paintings, or discover authentic outback life on a cattle station
Darwin Stay
Kimberley Cruise
Experience cruising down scenic King George River getting up close to 80m tall sandstone cliffs
Experience the thrill of riding the Horizontal Falls in inflatable Zodiac tender vessels
Visit Indigenous rock art galleries and learn about ancient Wandjina and Gwion Gwion art
Birdwatch at Ashmore Reef and look out for turtles at Adele Island
Get up close to Montgomery Reef and discover the tidal reef's diverse marine life
Snorkel or dive the pristine and rarely visited Rowley Shoals Marine Park and Scott Reef, accompanied by our onboard Marine Biologist
DAY 1 : Adelaide
Departing Adelaide, what lies ahead is rugged, beautiful and spectacular – through the Red Centre to the tropical north of Australia. Settle into your cabin and watch the rolling pastoral lands of South Australia from your window, or meet your fellow travellers in the lounge car. Before long some of the oldest rock formations in the world, the Flinders Ranges, come into view. As darkness envelops the rugged outback, it's time to indulge in a regionally-inspired dinner and all-inclusive fine wines and beverages.
DAY 2 : Alice Springs
Begin with a freshly brewed coffee or juice as the day dawns at Marla, an outback outpost in the remote reaches of South Australia. It is here, deep inland, that you will enjoy a one of a kind experience, as you watch the desert come to life at sunrise. All aboard for brunch as you make your way through the MacDonnell Ranges to Alice Springs where a choice of Off Train Excursions awaits. Alice is an iconic Red Centre outpost. 1,500 kilometres from the nearest major city, it may be remote, but offers plenty to explore – home to doctors who fly, rivers that run dry, and a cast of colourful characters. Your time in the 'capital out of the outback' offers numerous opportunities to explore its historic legacy and unique environment.
DAY 3 : Katherine and Darwin
Your day dawns in the tropical north. The pristine wilderness of Katherine is stirring and powerful, and you'll have the chance to explore it from the water or land with your choice of off train experiences. Cruise the jaw-dropping Nitmiluk Gorge, learn more about its ancient Indigenous rock paintings and gain insight into the culture of the traditional owners of Nitmiluk, the Jawoyn people, or discover authentic outback life on a cattle station. As evening falls, arrive in Darwin to complete your epic Australian journey. Stay in Darwin overnight before your big day of embarking on your next advenure
DAY 4 : DEPART DARWIN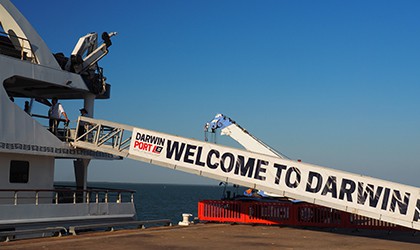 Make your way to Darwin Cruise Terminal for SailSAFE Check-In from 2PM, before boarding at 4pm with time to settle into your cabin before our 5pm departure.*
Take the time to become acquainted with all the facilities on board and join our Expedition Team in the lounge for an insightful introduction to the Kimberley. As dusk falls meet your fellow travellers, the Captain and crew for the Captain's Welcome Drinks as we cross the Bonaparte Gulf.
*Please note, 2022 & 2023 departures will be at 9AM departure, with SailSAFE check-in from 7AM.
DAY 5 : KING GEORGE RIVER & FALLS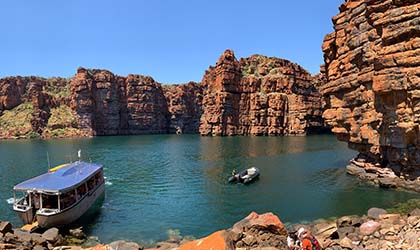 Cruise down the scenic King George River, through steep-sided gorges carved by a flooded river system that carved a swathe through the Kimberley landscape 400 million years ago. We will take the opportunity to get up close and view the honeycomb erosion patterns of the 80m tall sandstone cliffs.
DAY 6 : A DAY OF ROCK ART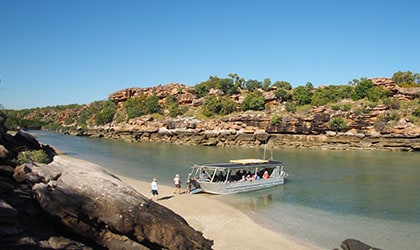 Today we will land at either Jar Island, Swift Bay, Wollsaton Bay or Bigge Island. Each of these locations are home to fantastic Wandjina and Gwion Gwion Rock Art (Bradshaw) galleries.
Stretch your legs and explore the magnificent sandstone structures, providing an abundance of rock shelters. On the walls of these shelters is where we will find examples of this rock art.
DAY 7 : ASHMORE REEF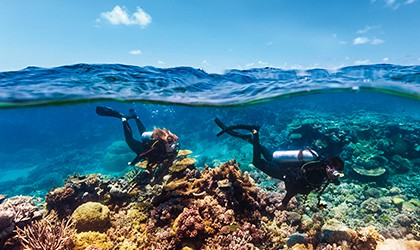 The territory of Ashmore and Cartier Islands is made up of the West, Middle and East Islands of Ashmore Reef, as well as Cartier Island and the surrounding 12 nautical mile territorial sea. These islands are uninhabited, making them the perfect location for seabird breeding. Each year around 100,000 seabirds flock to the marine parks three tiny islands.
The reef here boasts a wide diversity of marine life, including over 70 fish species and 255 varieties of coral. To protect this reef, the Australia Government declared the Ashmore Reef National Nature Reserve in 1983. The islands also have a significant marine turtle nesting area and migratory bird populations.
Here we will spend time birdwatching, swimming and snorkelling the pristine reef.
DAY 8 : SCOTT REEF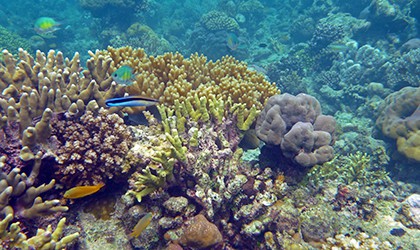 A group of four separate reef structures including Scott Reef South, Scott Reef Central, Scott Reef North and Seringapatam Reef – These atolls are situated on the continental shelf in the Timor Sea.
Weather and tide permitting we will snorkel and dive the outer reef – The sheer walls and diverse ecosystems of this acclaimed coral habitat will take your breath away! Enjoy nature and history interpretations from your Expedition Team.
DAY 9 : ADELE ISLAND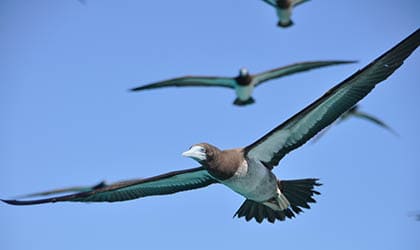 Weather and tide permitting we will visit the remote and beautiful Adele Island. Pristine, teeming with breeding bird and supported by coral reef that surrounds it, Adele Island was declared a Nature Reserve in 2001. Adele Island is recognised for its bird breeding sanctuary, classified by BirdLife International as an Important Bird Area for its seabirds and waders.
Adele Reef is one of the more unique reef habitats on the planet, with exclusive discoveries reported in this area. This area is of great scientific interest as it provides an environmental link between the Kimberley's oceanic and inshore reef systems.
DAY 10 : MONTGOMERY REEF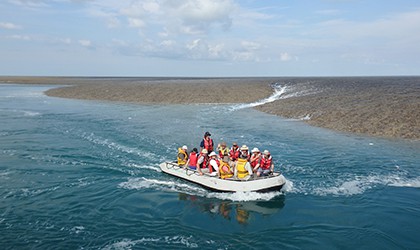 Montgomery Reef is a biologically diverse area covering over 300 sq km and was named by Phillip Parker King. Twice daily, as the sea recedes in mammoth 11m tides, Montgomery Reef rises from the Indian Ocean in a cascade of rushing water revealing a flat-topped reef pockmarked with rock pools and rivulets.
As the reef emerges, we get up close in our Xplorer and Zodiac inflatable tenders to witness the spectacle as our Expedition Team share their knowledge on the formation of the reef and the myriad wildlife. Opportunistic birds take advantage of the emerging reef, feeding on marine life left exposed in rock pools. Turtles, dolphins, dugongs and sawfish too are also attracted to feeding opportunities as the ocean recedes.
The ocean is awash in a swirl of eddies and whirlpools as the moon's gravitational force takes hold. Then, a few hours later the entire water-borne drama is reversed as the tide comes in and Montgomery Reef disappears below sea level.
DAY 11 : DOUBTFUL BAY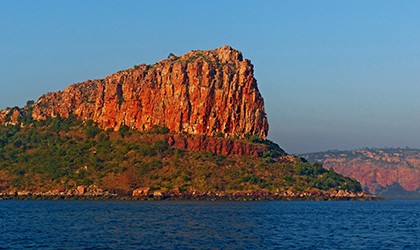 Raft Point guards the entrance to Doubtful Bay, a vast body of sheltered water which harbours significant sites such as the ancient Wandjina rock art galleries located a short walk from the beach and are considered some of the finest in the Kimberley and we visit the rock art galleries when Traditional Owners are available to guide us. Doubtful Bay is the traditional country of the Worrora people who follow the Wandjina, their god, law-maker and creator. Images of Wandjina are found throughout the Kimberley, recording their stories, knowledge and culture in stone.
Depending on the tides we will visit Red Cone Creek, which flows gently downstream until it meets the small but impressive Ruby Falls. Named by local mariner Capt. Chris Trucker after his daughter, Red Cone Creek is carved through rock formations stacked atop each other like building blocks. These rock walls are great for climbing and clambering over before reaching a series of freshwater swimming holes and waterfalls. The falls may be a gurgling torrent or a gentle trickle, depending on the time of the year.
If traditional owner guides are available we may visit Wijingarra Bard Bard (Freshwater Cove) with a hike to the hinterland to view rock art at Cyclone Cave.
DAY 12 : HORIZONTAL FALLS AND BUCCANEER ARCHIPELAGO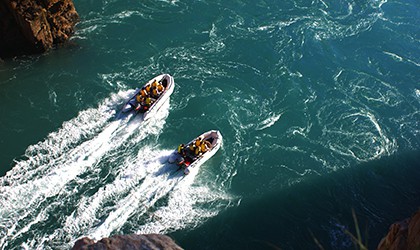 The Horizontal Falls are one of the Kimberley's biggest attractions and are a result of the mammoth 11m tides for which the Kimberley is renowned. Naturalist David Attenborough described the Horizontal Falls as 'one of the greatest natural wonders of the world.'
The Horizontal Falls are created as the ocean thunders through a narrow gorge in the McLarty Ranges. Water builds up on one side and is forcibly pushed through the bottleneck, creating a rushing horizontal waterfall of swiftly flowing seawater. Riding the rapids on our Zodiac inflatable tenders is one of the highlights of our Kimberley expedition cruises.
Talbot Bay is at the heart of the Buccaneer Archipelago, where rocks on the 800 or so islands are estimated at over 2 billion years old. At Cyclone Creek, you will see evidence of massive geological forces in the impressive rock formations and cruise through the Iron Islands past Koolan Island.
DAY 13 : THE LACEPEDE ISLANDS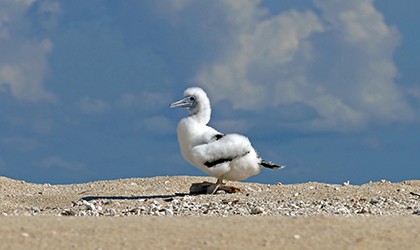 The Lacepede Islands are a protected class-A nature reserve and are significant as a seabird nesting rookery for brown boobies and roseate terns. Other species often sighted at the Lacepedes include Australian Pelicans, frigate birds, egrets and gulls. The four low-lying islands are also an important breeding and nesting habitat for green turtles.
If weather and tide conditions are suitable, we will explore the lagoons by Xplorer and Zodiac tender vessels.
DAY 14 : ROWLEY SHOALS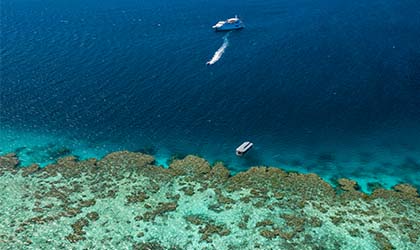 At the edge of the continental shelf, 170 nautical miles offshore, lie the Rowley Shoals a chain of 3 coral atolls including Clerke, Mermaid and Imperieuse Reefs. The shoals, named by Captain Phillip Parker King, offer some of the best snorkelling and diving opportunities in the world. Their shallow lagoons are inhabited by myriad coral species and marine life, including giant potato cod, Maori wrasse, at least 233 species of coral and 688 species of fish – many of which are not found on other coral reefs. Diving along the outside edge of the shoals one can view colourful soft corals, hammerheads and pelagic fish. Water clarity here is absolutely unparalleled, making for superb underwater photography opportunities.
Conditions permitting, we will spend 1-2 days at Clerke, with ample time for snorkelling and diving opportunities. With each atoll covering approximately 90sq km, there will be plenty to see! Guided by our on-board marine biologist, snorkel away the day in the coral gardens of the Aquarium at Clerke Reef, or dive along the sheer vertical walls and through coral canyons. If time and tide permit, we may also visit Bedwell Island, with a chance to look out for the rate red-tailed tropicbird.
DAY 15 : ARRIVE IN BROOME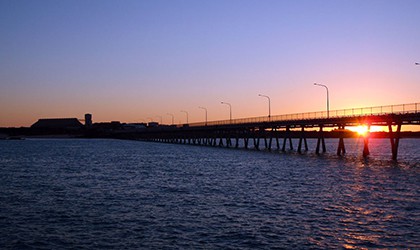 Our incredible adventure along the Kimberley Coast concludes in Broome this morning at 8:00am. Bid farewell to new-found friends, the Captain and crew. A post-cruise transfer to Cable Beach, CBD hotel or Airport is included.
If you're not transferring directly to the airport why not spend the day visiting world-famous Cable Beach or stroll the historic streets of Chinatown in central Broome.
| Depart Adelaide | To Darwin | Coral Deck | Promenade Deck | Explorer Deck | Bridge Deck |
| --- | --- | --- | --- | --- | --- |
| 25 Sep 2022 | 8 Feb 2022 | $12,299pp | $15,399pp | $18,499pp | $23,499pp |
*Pricing is per person twin share correct as at 22 July 2022
**Upgrade to Platinum for the Ghan train journey for only $1,440pp - Hurry these cabins sell fast!
Destinations featured in this deal...
Booking terms and conditions apply
* Term and conditions apply – please speak to your Phil Hoffmann Travel Consultant for more information.
Prices subject to change with availability and prevailing exchange rates.
Advertised prices based on per person twin share unless stated otherwise.
Offers may be withdrawn at any time.
If travelling on a PHT Escorted Journey or Hosted Cruise, included home to airport transfer is for the Adelaide metropolitan area to the value of $50 per person only.
Surcharges may apply if outside this radius.
Interstate travellers are welcome to participate in PHT Escorted Journeys or Hosted Cruises, however any noted pre-departure function is held in Adelaide only.