In Search of the Northern Lights 2025
BOOK NOW
Overview
VIKING VOYAGE
The Viking difference
We travel to explore, to learn, to understand. We believe travel should be more than just a trip—it should be a doorway to cultural insight and personal enrichment. That's why Viking's intimate, inclusive cruise itineraries are designed to help you explore nuances of your destination; its food, culture, people and customs.
Reinventing Ocean Cruising
Viking launched Viking Ocean Cruises to reinvent the category. And it didn't take long for them to rise to the top. If you prefer an elegant, serene ship ambiance, more time in each port and an inclusive experience complete with exquisite dining and thoughtfully curated shore excursions, the world's best ocean cruise line was created for you.
Small Ship Experts
On a Viking ship, you will sail into the heart of your destination, so you can explore up close and in depth. The size of their vessels—with just 930 guests—gives them greater maneuverability, allowing them to dock where the mega-liners cannot, giving you more access to your destination and more time to explore. From their prime, central berths in the world's great cities and seldom-visited ports, enriching discoveries are just a short walk from your ship.
Serene Scandinavian Spaces
Expand your horizons on Vikings elegant, intimate ships, designed by experienced nautical architects and exclusive hotel designers to help you connect with your destination in every way. Their vessels are designed down to the most minute detail—from the serene Wintergarden, perfect for a calming cup of tea; to our Scandinavian-inspired Spa, a Nordic sanctuary of wellness; to the Explorers' Lounge, where you can share your latest adventures with fellow travelers. The perfect retreat to relax and begin your day refreshed, each well-appointed stateroom is an open and airy sanctuary with a sweeping view of your destination.
Destination Focused Dining
Whatever your tastes, Viking believes dining is an important part of your journey. That's why they celebrate dining both on shore and onboard. Their ocean vessels put the spotlight on fine dining in The Restaurant, which serves three full meals and the widest selection of culinary options. Alernative restaurants, the World Café, The Chef's Table and Manfredi's Italian Restaurant, serve always available American classics and regional specialties—so you have choices, not just in food selection but where and how you enjoy them.
COLLETTE LAND JOURNEY
We consider everyone who travels with us to be our personal guest.
Every moment matters to us because we know it matters to you. This may be because at heart we are a family owned company that has been in business for over 100 years. It may be because our team are passionate about sharing their own love of travel and uncovering mysteries.
Choosing Collette comes with benefits that take your guided travel experience to another level. Our inclusive tours provide you more value for your money and more of what makes travel special.
Read more
Land details
Your Tour Includes
3 Handpicked Accommodations
11 Meals
Highlights
Helsinki
Senate Square
Helsinki Cathedral
Lapland Region
Kakslauttanen Arctic Resort
Finnish Sauna
Meet & Greet with Santa
Reindeer Safari
Northern Lights Searches
Husky Safari
Glass Igloo Accommodation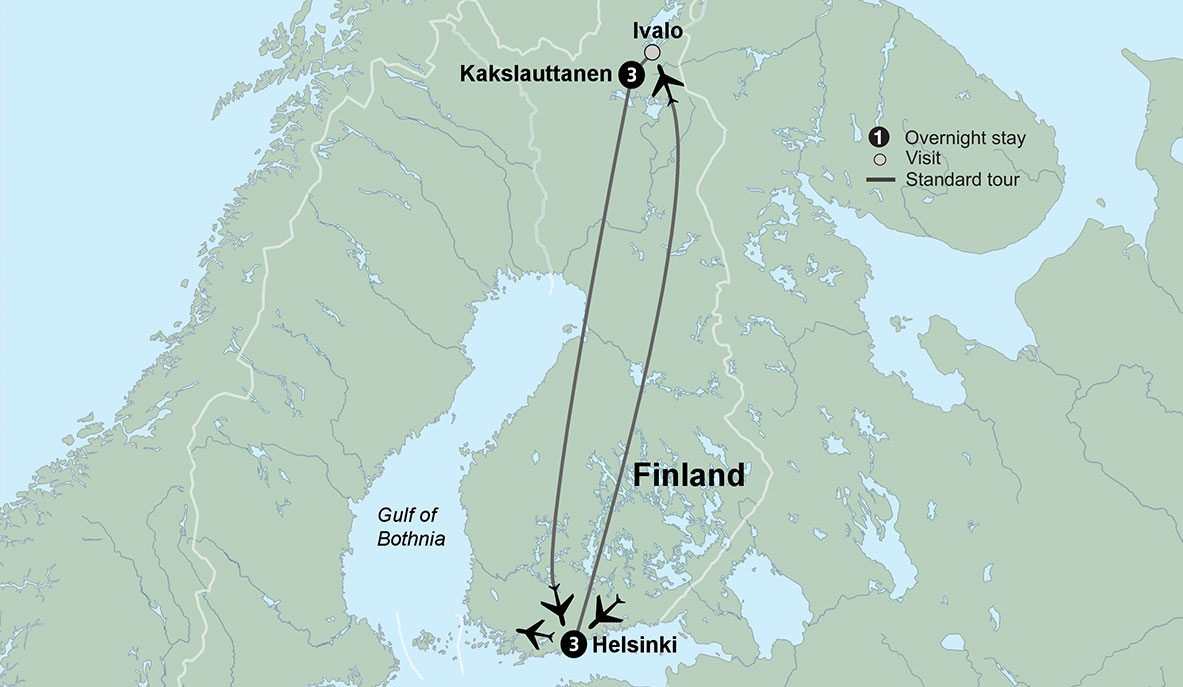 Twin share from $6,519pp twin share
Single $7,819pp
Itinerary
Day 1: Tuesday, March 4, 2025 Helsinki, Finland
Hei Helsinki! Finland's vibrant capital, where history converges with architectural style and combines with a laid-back vibe across beautiful islands and pristine public parks, welcomes you. This evening, gather with new friends for a welcome dinner in the city
centre. Hyvää ruokahalua! (Bon appetit!) (D)
Day 2: Wednesday, March 5, 2025 Helsinki
Join a local expert for an engaging city tour. If Finland's heart beats in Helsinki, then Helsinki's core is in Senate Square, home of Helsinki Cathedral, the
city's most iconic building. Walk the streets of empiric-designed Tori Quarters before enjoying some free time in Market Square, the city's famous international market. See the steel monument dedicated to the composer Sibelius. During your leisure time, explore more of Helsinki independently. (B)
Day 3: Thursday, March 6, 2025 Helsinki - Kakslauttanen -Northern Lights Search
Escape to northernmost Finland's winterwonderland on board a flight to Ivalo and magical Lapland. Like a storybook come to life, Lapland's culture is steeped in myth and legend. Relish encounters with reindeer and unspoiled views of the northern lights.* At the breathtaking Kakslauttanen Resort, spend two nights in your very own Finnish log cabin** indulging in your personal Finnish sauna and other unique fixtures. Travel north towards Inari on a chase for the northern lights.* Stops along the pursuit allow you the chance for a front-row seat at nature's dazzling, electric light show.* (B, D
Day 4: Friday, March 7, 2025 Kakslauttanen - Santa Claus' Home - Reindeer Safari - Northern Lights
Hit the snow and mush to breakfast aboard an authentic Finnish sleigh. From Kakslauttanen, head to the home of Santa Claus, an epicenter of Christmas cheer. Among prancing reindeer, learn about Santa's origins during a meet
and greet at his house. Under the Arctic moonlight, a reindeer farmer
introduces you to some friendly Lappish reindeer that will escort you on an exhilarating reindeer safari through remote Kakslauttanen. Gain
insight into the importance of reindeer herding to the Sámi indigenous culture. Sip warm berry juice, a Finnish tradition, under the cover of blankets in the surround of northern Finland's wilderness as you continue the search for the elusive northern lights.* (B, D)
Day 5: Saturday, March 8, 2025 Kakslauttanen - Husky Safari -
Northern Lights Search
Breathe in the fresh Arctic air this morning and step into the role as leader of your own dog sled team. Zoom through the wilderness on a husky safari, driving your husky guides that are as fast as they are adorable. Spend some time getting to know these amazing dogs and learn about their different commands. You'll also be introduced to the equipment you'll need to experience this incredible Arctic adventure at its best. Enjoy your last night in the heart of the Lappish wilderness, nestled in your own private glass igloo.*** You may even see the northern lights* dancing overhead.
(B, D)
Day 6: Sunday, March 9, 2025 Kakslauttanen - Helsinki
Say goodbye to enchanting Lapland and fly back to Helsinki. Enjoy the afternoon at leisure. Explore the city's central squares and get in tune with the latest Finnish trends at a collection of charming shops.
Tonight, in downtown Helsinki, toast to grand adventures and new
friends. (B, D)
Day 7: Monday, March 10, 2025 Helsinki - Tour Ends
Set out for
home with incredible memories and a longing to return. (B)
Flight to Bergen and pre cruise accommodation not included.
Read more
Cruise details
Inclusions
One complimentary shore excursion in every port of call
Free Wi-Fi (connection speed may vary)
Beer, wine & soft drinks with onboard lunch & dinner
24-hour specialty coffees, teas & bottled water
Port taxes & fees
Ground transfers with Viking Air purchase
Visits to UNESCO Sites
Enrichment lectures & Destination Performances
Access to The Nordic Spa & state-of-the-art fitness center
Self-service launderettes
Alternative restaurant dining at no extra charge
24-hour room service
Itinerary
Day 1 - Tuesday, March 11, 2025 Bergen, Norway
Embark your ship and settle into your stateroom. Bergen is home to the Hanseatic League's only kontor (trading enclave) still in existence. Bryggen wharf, a row of timbered Hanseatic warehouses along a quaint quay, is a UNESCO World Heritage Site. Narrow wooden walkways are flanked by parallel rows of small, vibrantly painted buildings overlooking the picturesque Vågen Harbor. This is perhaps the most charming district of Bergen and a delight to explore, from its tight-knit community of workshops where artisans sell their wares to its cafés where freshly prepared smørbrød, or open-faced sandwiches, are on the menu.
Day 2 - Wednesday, March 12, 2025 Bergen, Norway
Bergen, an ancient city with deep Viking roots, is nestled between gargantuan snowcapped mountains, magnificent fjords and one of Europe's largest glaciers. Founded in 1070 on what was a Viking settlement, Bergen is the second-largest city in Norway. Not to be missed is a stroll through the Fisketorget, where the fresh catch of the sea awaits—from cod and prawns to local caviar and icy oysters.
Day 3-4 Thursday, March 13 & 14, 2025 Scenic Sailing: Norwegian Inside Passage
The Norwegian Inside Passage is a protected shipping lane that runs from Norway's capital of Oslo, down the Skagerrak coast and around the country's southern tip. It continues north along the coastline of the Norwegian Sea, before eventually terminating in the Russian waters of Siberia. It has been used by mariners for centuries, its channels protected from the dangers of the open water by countless skerries and the rugged coastline presenting opportunities for shelter in its many natural bays and inlets.
Day 5 - Friday, March 15, 2025 Alta, Norway
Resting on the stunning shores of Altafjord, Alta is the gateway to some of Europe's most magnificent natural beauty. With its frequent clear skies, it is an ideal place from which to see the northern lights. Alta is perhaps most known as the site of ancient rock carvings dating back as far as 4200 BC. These fascinating depictions of hunters, gatherers, rituals, animals and geometric symbols are Norway's only primitive UNESCO World Heritage Site. The Alta Museum was built around the largest concentration of the carvings.
Day 6 - Saturday, March 16, 2025 Alta, Norway
The small town of Alta lies in Norway's largely unspoiled county of Finnmark and is considered one of the world's northernmost cities. Here, pristine woodlands spill into the stunning Altafjord, which stretches some 24 miles. Perhaps, however, one of Alta's most striking sights is not natural at all; the boldly designed Northern Lights Cathedral in the center of town is a vision in titanium, with its circular exterior spiraling upward into a narrower cylinder and a breathtaking belfry.
Day 7 - Sunday, March 17, 2026 Tromsø, Norway
Tromsø is Norway's most northerly city and has long been considered the gateway to the Arctic. During the summer months, pretty wooden houses exude an air of sophistication as they bask beneath the glow of the Midnight Sun. Winter brings pristine landscapes surrounded by snowcapped peaks and the aurora borealis, whose magical lights dance across the nighttime skies. World-renowned explorers have set sail from Tromsø's shores; Roald Amundsen, Norway's first son and the first explorer to reach both poles, is commemorated with a bronze statue in the city.
Day 8 - Monday, March 18, 2025 Tromsø, Norway
Tromsø features an array of French Empire, Swiss and neoclassical architecture, earning its nickname "Paris of the North." Visitors from Southern Europe were surprised that an Arctic city encircled by snowcapped mountains could exude such a cosmopolitan air. By the 19th century, the city was recognized for its polar exploration know-how; expedition crew members were often recruited from here. The 1970s brought a renewed interest in protecting the language and traditions of the Sami culture, ensuring that its cuisine and pastimes are now celebrated cultural treasures.
Day 9 - Tuesday, March 19, 2025 Narvik, Norway
Narvik is situated on the innermost shores of the Ofotfjorden, within the Arctic Circle. The small town enjoys a dramatic backdrop, encircled by mountains and a glacier that spills right to the water's edge. The town served as a port city for the early Viking settlers. Much later, the discovery of iron ore in the nearby Swedish town of Kiruna forever shaped Narvik. Kiruna needed a year-round ice-free port from which to ship its new discovery, and so a rail link was built directly to the water. Still today, Narvik is a major exporter.
Day 10 - Wednesday, March 20, 2025 Scenic Sailing: Norwegian Inside Passage
Norway's jagged coast was formed as melting glaciers receded, eroding bedrock and creating innumerable valleys and fjords, as well as the characteristic skerries that run along the country's more than 16,000 miles of shoreline. These thousands of large islands, small islets and reefs shelter the famous Norwegian Inside Passage from the sea's punishing winds and waves, making the journey along the coast smoother and more comfortable than when traveling on the open waters of the Norwegian Sea.
Day 11 - Thursday, March 21, 2025 Sail the North Sea
Cross the North Sea, where Vikings sailed as they established colonies on Scottish islands, coastal France and beyond. As you sail, explore our well-curated library, tucked in a private alcove of The Living Room, and select from a broad range of titles. Read a book by the Main Pool, a calming oasis in any weather with its retractable roof, allowing for year-round swimming.
Day 12 - Friday, March 22, 2025 Amsterdam (Ijmuiden), The Netherlands
Ijmuiden is a small port city in the province of North Holland and connects to the Dutch capital via the North Sea Canal. Amsterdam is just 11 miles from Ijmuiden, and is famed for its patchwork of charming waterways, elegant gabled houses and splendid museums. The legacy of the Dutch Golden Age lives on in gilded manses and in the lush paintings of Rembrandt and other Dutch masters that adorn the Rijksmuseum. Discovering Amsterdam is a pleasure best pursued on foot; visitors line the tranquil canals and linger over Dutch pancakes, or take a stroopwafel to go.
Day 13 - Saturday, March 23, 2025 London (Tilbury), England
Situated on the north bank of the Thames, Tilbury is steeped in history. The town is most famous as the site of a fortress built by Henry VIII to defend London from invasion by ships coming up the Thames. Upriver, the city is home to iconic power centers—Buckingham Palace, the Houses of Parliament, Westminster Abbey—from which the fate of the British Empire rose and wavered. Today, the city thrives amid a long tradition of arts and architectural innovation—from Shakespeare's Globe Theater to West End musicals, from Tower Bridge to the London Eye. After breakfast, disembark your ship and journey home.
Read more
Cruise pricing
Depart

Bergen

Finish

London (Tilbury)

Hosted by
Deluxe Veranda (DV6)
Deluxe Veranda (DV4)
Deluxe Veranda (DV2)
Penthouse Veranda (PV1)
11 March 2025
23 March 2025
Phil Hoffmann Travel
$9,095pp twin share
$9,295pp twin share
$9,495pp twin share
$12,095pp twin share
Advertised price is based on per person twin share
Read more
Booking terms and conditions apply.
* Term and conditions apply:
All pricing subject to change and availability.
Advertised prices are per person twin share unless stated otherwise.
Offers may be withdrawn at any time. Itineraries are subject to change.
$1000 deposit is required within 3 days of booking.
Booking Conditions and Phil Hoffmann Travel Schedule of Professionalism* applies.
Please speak to your Phil Hoffmann Travel Consultant for more information.
Destinations featured in this deal