Tasmania's Bass Strait Islands
Ready to go? Book now via...
Tasmania's Bass Strait Islands
13 Nights | Departing Hobart 16 February 2022 | Arriving Melbourne 1 March 2022 | Onboard Coral Geographer
Come ashore to pristine silica shores, trek amongst tall eucalyptus forests, and take in the sweeping ocean vistas from atop granite peaks. On this maiden expedition, we visit wild coastlines forged by wind and ocean – true Australian outposts steeped in rich natural, Indigenous and colonial history.
Our voyage will take in the wilderness regions of the Flinders and Kent Islands in the Furneaux Group, and the unique Australian wildlife at Maria Island. These are lands whose only permanent inhabitants include Bennett's wallabies, wombats, and pademelons. Active guests will enjoy a variety of day hiking options including the Fluted Cape walk, Bishop and Clerk, and spectacular Cape Hauy; part of the renowned Three Capes track. View the spectacular formations of the Tasmanian Coastline including the Friars, the Monument, and Cape Pillar from the vantage point aboard our small ship. Experience the unique sights and sounds of sub-Antarctic Australia – an Australian fur seal colony's rocky haul-out, the rasping call of Cape Barren geese, the majestic sight of a soaring albatross.
The voyage will culminate with two days enjoying King Island, famed for its cheese, dairy and beef. Special events along the way will include a visit to the award-winning Bangor Vineyard Shed for a gala dinner experience overlooking the Bangor vineyard and picturesque Blackmans Bay, and a long lunch enjoying the Tastes of King Island.
Why Coral Expeditions?
Enjoy a daily program of lectures, themed documentaries and movies
Taste fresh daily, high-quality cuisine with Australian and local ingredients
Dine with whom you please – no formal nights or assigned seating
Mingle over drinks on the sundeck or in one of the comfortable lounges
Have a chat with the captains on the bridge and observe operations
Stay in outward facing cabins with their own ensuites – some with balconies, large picture windows or portholes
Take a dip in the ocean and snorkel spectacular reefs
Go on shore excursions at no extra cost
Coral Geographer
Launched in March 2021, Coral Geographer is a tropical expedition ship purpose-designed to access remote wilderness shores around the world, that are often inaccessible to large cruise vessels.
Coral Geographer is as comfortable as she is capable – her design draws on the latest technical advances as well as Coral Expeditions' 36 years of experience building and operating expedition ships. The ship's lightweight dual Xplorer tenders, a trademark feature of all our vessels, extend the capabilities of the ship by allowing deeper exploration on shore excursions. These 'safari jeeps' of the sea are fast, sturdy, and comfortable and developed to allow easy boarding from the ship and walk-off disembarkation onto remote shores.
DEPART HOBART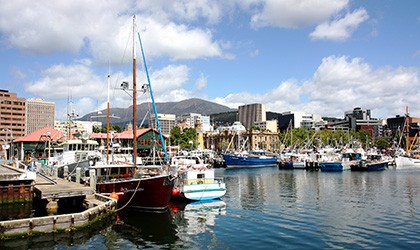 Board the Coral Geographer at Hobart's Macquarie Wharf at 4:00 pm where there is time to settle into your stateroom before our 5:00 pm departure (SailSAFE check-in commences at 2:00 pm at Macquarie Wharf #2).
Take the time to make yourself comfortable onboard before meeting your fellow travellers, the Captain and crew for the Captain's Welcome Drinks.
D'ENTRECASTEAUX CHANNEL & BRUNY ISLAND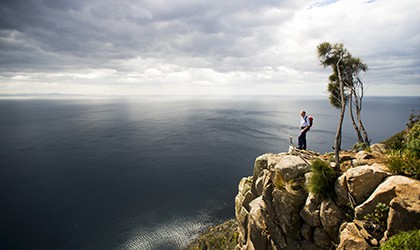 This morning, cruise south down the scenic D'Entrecasteaux Channel and along the rugged southern coast of Bruny Island. Hear commentary on the history and geology of the area as we pass Bruny Island Lighthouse, and the impressive rock formations 'The Friars' and 'the Monument'.
At Adventure Bay, a hike to Fluted Cape Lookout provides views over the crystal blue waters and by Xplorer. This afternoon is all about Tasmania's delicious produce. At Captain's Welcome drinks, enjoy canapes featuring Bruny Island cheeses and oysters.
Walks:
The Fluted Cape walk on Bruny Island is a moderate to hard walk that stays close to the coastal cliffs, providing spectacular views of Fluted Cape and the distant Tasman Peninsula. Bruny Island showcases rich history, magnificent scenery, and abundant wildlife. Guests are able to do shorter sections of the walk.
FORTESCUE BAY AND BANGOR VINEYARD SHED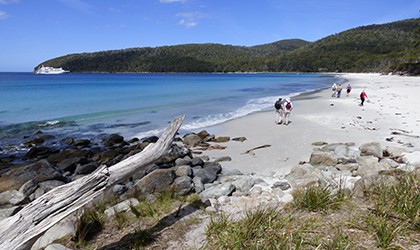 Today, you may choose your adventure. Those that wish to stretch their legs on a variety of walk options will take a half hour bus ride to picturesque Fortescue Bay. Choose between shorter sections of the Tasman Trail, or a longer trail to Cape Hauy, part of the legendary Three Capes Trek. If you prefer a more relaxed morning, join the tour to Pirates Bay/Eaglehawk Neck, to observe the natural geological formations – the Tessellated Pavement, Tasman's Arch, and the Devils Kitchen, with a quick stop at the delightful Port Arthur Lavender Farm.
This afternoon, a coach takes us to picturesque Bangor Vineyard Shed for our special event. Owner Matt Dunbabin will be our host, seventh generation of the Dunbabin family in Tasmania and descendant of John Dunbabin, who arrived in Tasmania as a convict in 1830. The property has a fascinating history: here the Dutch flag was hoisted by Abel Tasman's carpenter in 1642, and the first contact between Aborigines and Europeans occurred in 1772. Bangor has been a farm since the 1830's, when it supplied food to the penal settlement at Port Arthur.
Walks:
Cape Hauy (part of the Three Capes Walk) is a medium to hard difficulty walk through an extraordinary landscape. Experience views of Fortescue Bay from Mt Fortescue and the dolerite columns at the tip of Cape Hauy.
PORT ARTHUR AND TASMAN PENINSULA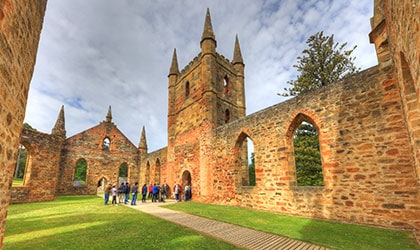 One of Australia's most significant historic places, the UNESCO World Heritage-listed Port Arthur ruins stand sentinel on the Tasman Peninsula. For more than 40 years the Port Arthur penal colony housed British and Australian convicts sentenced to hard labour before its heavy iron doors clanked shut for the last time in 1877. This morning we join an exclusive 'behind the scenes tour' with Port Arthur's knowledgeable guides, which includes access to private collections and historic buildings not otherwise accessible.
Later, enjoy a scenic cruise of the Tasman Passage to see the spectacular dolerite formations of Tasman Island and Cape Pillar. If conditions permit, a scenic cruise by Xplorer will allow you to view the fascinating geology of this coastline up close.
MARIA ISLAND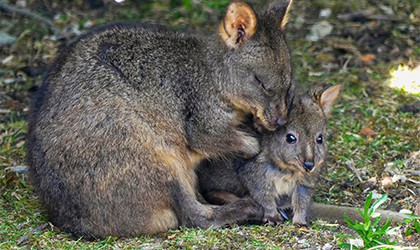 Known as Noah's Ark for native Tasmanian species, Maria Island National Park provides an ideal sanctuary and is one of the best places in Australia to observe endemic birdlife as well as wombats, Cape Barren geese, Forester Kangaroos, Bennett's Wallabies, and pademelons.
We dedicate two days to the island, exploring with hikes including the Fossil Cliffs walk, Painted Cliffs walk, Reservoir Circuit, and the challenging Bishop and Clerk track to the summit. Those enjoying a more relaxed pace can take the time to explore Darlington Settlement, or take an Xplorer cruise to the Painted Cliffs. After departing Maria Island, cruise past Ile des Phoques to watch the Australian fur seals hauling out.
Walks:
Bishop and Clerk is a challenging walk located in the Maria Island National Park. Pass through diverse landscapes of grasslands and forest, to emerge overlooking a dramatic and sweeping view of the Southern Ocean.
FREYCINET PENINSULA AND SCHOUTEN ISLAND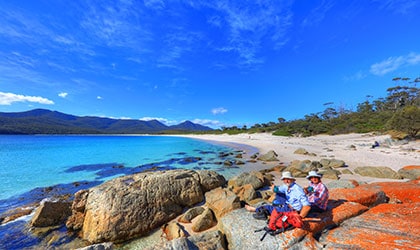 The Freycinet Peninsula is dominated by the pink-hued granite Hazards Mountain range and known for picturesque sweeping bays and white sand beaches. Take a guided hike along the Isthmus Track and be rewarded with magnificent views from the lookout or swim in the azure waters of beautiful Wineglass Bay.
Conditions permitting, we will also explore the less accessible southern section of Freycinet National Park, including Bryans Beach and Schouten Island.
Walks:
The spectacular peninsula of Freycinet is crafted from pink granite peaks – the Hazard mountains – surrounded by azure bays and backed by dry eucalyptus forest. Enjoy a hike to the Wineglass Bay Lookout and join a beachcomber's walk along breath taking Wineglass Bay beach. Later, walk across the isthmus to Hazard's Beach.
FLINDERS ISLAND - BASS STRAIT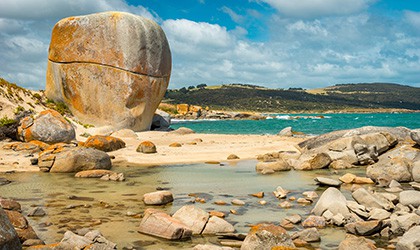 Spend two days exploring wild and rugged Flinders Island, part of the Bass Strait's Furneaux Group. On the first day, explore the southern half of the island, marvelling at the Strzelecki Mountain Range from the Trousers Point Great Short Walk, or visiting the quaint townships of Lady Barron and Whitemark.
Explore further north to Settlement Point. You may choose to hike a section of the Castle Rock walk, while those with an interest in history may visit the Furneaux Museum and Wybalenna Aboriginal Settlement ruins, to gain insight into the people, places and events that shaped Flinders Island. In the afternoon, relax on board or enjoy scenic Xplorer cruises if conditions permit.
DEAL ISLAND & KENT GROUP - BASS STRAIT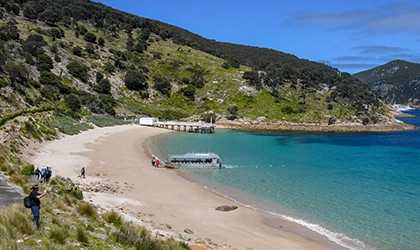 Today, go ashore at Deal Island, in the Kent Group, if conditions permit. Tasmania's northernmost National Park and a marine protected area, the islands are the remains of a land bridge that once connected Tasmania with mainland Australia. The waters are crystal clear, with a high diversity of fish species.
Landing at East Cove, spend the day exploring all this island has to offer. Visit the historic lighthouse, built in 1848, and have a chat to the lighthouse caretakers. Enjoy one of the peaceful walks available, kayak in the clear waters, or simply relax on the beach and experience the serenity of this remote place.
HOGAN GROUP AND CURTIS GROUP - BASS STRAIT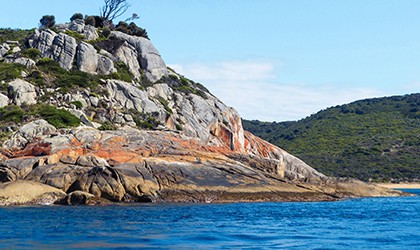 Conditions permitting, Coral Geographer will cruise north to the rarely seen Hogan and Curtis Island groups. We cannot land on these remote islands due to their protected status; however, we will enjoy scenic cruises to observe wildlife if weather permits.
Curtis Island is a nature reserve and has been identified as an Important Bird Area, as it supports up to 390,000 breeding birds of short-tailed shearwaters. During the Pleistocene Period, the Hogan Group was part of a land bridge that connected Tasmania to mainland Australia and was among the first islands to become isolated by rising sea levels.
KING ISLAND - BASS STRAIT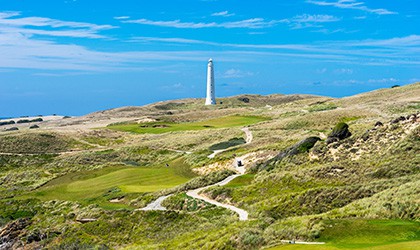 King Island is renowned for the quality and exquisite flavours of its local produce. Situated at the western entrance to the Bass Strait, King Island's rugged coastline has been the site of over 60 known shipwrecks.
Spend two extraordinary days exploring the island and learning about the colourful history of the communities and the present-day industries from knowledgeable local guides. Indulge in tastings of the King Island Dairy's delicious cheeses and a variety of delicious local produce. Spend your afternoons relaxing on board as your adventure through Tasmania's Bass Strait Islands comes to an end.
ARRIVE MELBOURNE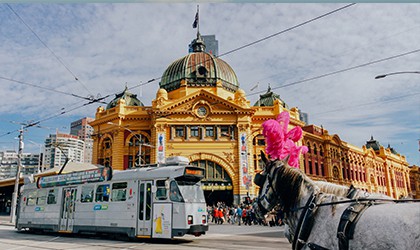 After breakfast on board the ship, we disembark the Coral Geographer at 8:00am at the Melbourne's Station Pier Cruise Terminal.
Transfers to CBD hotels and the airport are included.
Inclusions
13 night cruise Hobart to Melbourne aboard Coral Geographer
Meals: All meals are fresh and chef-prepared onboard
Tea & Coffee: 24-hour barista-style coffee and tea station
Beverages: Selected wines, beers, juices, soft drinks and selected spirits are served complimentary with lunch and dinner. Drinks are available for purchase at other times.

Expedition Highlights
Spend time at the award-winning Bangor Vineyard Shed to learn about their wines and sit down together for freshly shucked oysters and a delicious evening meal
Hike the Trousers Point Great Short Walk on Flinders Island with views of the Strzelecki Ranges, and visit historic Wybalenna
Get up close by Xplorer to the protected island groups of Hogan and Curtis in the Bass Strait (weather permitting).
Over two days, explore King Island to learn about its maritime history, meet local people, and indulge in the delicious meats and cheeses produced there
Choose from a variety of coastal hikes in Tasmania's spectacular national parks and islands
Gaze up in awe at the spectacular formations of the Tasmanian coastline, including the Friars, the Monument, and Cape Pillar – from a perfect ship's vantage point
Encounter iconic wildlife in natural settings such as wallabies, wombats, fur seals, seabirds and dolphins
Fares
| CORAL GEOGRAPHER | TWIN SHARE PER PERSON | SOLE USE* |
| --- | --- | --- |
| Bridge Deck Balcony Suite | $21,490 | n/a |
| Explorer Deck Balcony Stateroom | $15,180 | $22,770* |
| Promenade Deck Stateroom | $11,380 | $17,070* |
| Coral Deck Stateroom | $9,490 | $14,235* |
Destinations featured in this deal...
Booking terms and conditions apply
* Term and conditions apply – please speak to your Phil Hoffmann Travel Consultant for more information.
Prices subject to change with availability and prevailing exchange rates.
Advertised prices based on per person twin share unless stated otherwise.
Offers may be withdrawn at any time.
If travelling on a PHT Escorted Journey or Hosted Cruise, included home to airport transfer is for the Adelaide metropolitan area to the value of $50 per person only.
Surcharges may apply if outside this radius.
Interstate travellers are welcome to participate in PHT Escorted Journeys or Hosted Cruises, however any noted pre-departure function is held in Adelaide only.